Once in a great while even the most experienced traveler experiences something that is truly phenomenal in terms of having a great vacation. Sometimes it's the unique experience that most people can't or won't do, or it's the high adventure of doing something that's on the very edge of reasonable. Sometimes it's just visiting a great place to spend time. New Zealand, for us, was one of those places that ended up being a great place to spend time. And if we had been looking for high adventure too, we certainly could have found it in the land of the Kiwi. With all the national parks and public lands available, we certainly had the opportunity to be outside and on the edge as much as anywhere else. Instead, we chose to give ourselves an overview of this incredible country and just see as much as we could in the short amount of time we had.
On our trip to New Zealand, we chose to go in November. It's springtime in November in New Zealand, and not quite at the peak tourist season. The weather is a little "iffy" then, but we knew it going in and brought appropriate clothing. Our tradeoff for somewhat unpredictable weather was fewer vacation crowds.
One of the biggest issues with visiting New Zealand for an American is the actual process of getting there. We flew to Los Angeles from Orlando, then caught a plane from there to Auckland, then on to Christchurch on the south island. Our itinerary actually took several days because we chose to stay in Los Angeles for a couple of days before leaving. That gave us an opportunity to catch up on some of the sightseeing in southern California. Also, it ensured that we were fresh before boarding an Air New Zealand flight for the grueling 12 hours it takes to get across the Pacific Ocean. Overall, it took about five hours to get from Orlando to Los Angeles, twelve hours to get from Los Angeles to Auckland, and another hour to go from Auckland to ChristChurch, plus layover times.
There wasn't really any jet lag associated with the trip. Crossing the International Date line is always confusing, but the actual time difference between California and New Zealand is actually about four hours. It's just that it's a different day and four hours, so it gets confusing. Anyway, we weren't jet lagged when we arrived, just really, really tired.
We flew coach, but with a twist. Air New Zealand has a product that basically lets two people buy three seats for themselves. The three seats are arranged in such a way that you can make them down into a sort of bed, but best of all, you're guaranteed to have only the two of you occupying the three seats. This class of seating is called Economy Skycouch and it's well worth the extra money.
Something we weren't expecting – and we were glad we researched ahead of time – was the baggage weight restrictions that were in place for the Pacific crossing part of the trip. On our flight, we were restricted to fifty pounds for our checked luggage for each bag, but the real shocker was that we were restricted to just fifteen pounds on our carry-on bags. And, they enforced these rules vigorously! Evidently carrying enough fuel to make the long trip across the water is more important than someone's overweight bag. So, before you go, save yourself some headache and research this issue with your particular airline.
Our first day in New Zealand was a scheduled day of rest for us. We checked into our hotel room around noon and proceeded to look around the city. As we mentioned before, we weren't particularly jet lagged, but we were really tired. After all, our flight had left Los Angeles late in the afternoon, and we arrived in the afternoon in New Zealand after travelling all night. We managed to find a grocery store and bought some dinner to take back to our room, and that was about as adventurous as we got the first day. Our second day was spent just touring the city.
On our third day we made our way down to the campervan rental office and collected our campervan for the rest of the trip. We chose a company called Maui. They rented us a diesel powered Mercedes van that's just a bit larger than a regular van, and ended up being a perfect fit for just about everywhere we drove. It was small enough to get by in traffic and parking, and large enough to accommodate the two of us. There were all the amenities we needed for this kind of trip: a bed that made down each night from the dining area, a sink, bathroom, refrigerator, and enough storage to store our stuff plus our food. The fuel economy worked out to about 21 MPG after all the math, and that was a good thing given that fuel prices were about $6.00/gallon.
I think Bonnie was a little annoyed at me at the Campervan rental office. I kept inspecting the van trying to find something wrong. The truth is, I was just freaked out about driving on the left side of the road, and I kept finding things I needed to see on the van before I left. It Turned out that actually driving on the left wasn't nearly as traumatic as thinking about it.
Franz Josef Glacier – Our first stop along the way was at Jackson's Campervan Retreat, which was a small RV park along the way to Franz Josef Glacier. Located near Arthur's Pass in the mountains east of Christchurch, it provided us an interim stop while we were getting used to the campervan and driving on the left side of the road. From there, we made our way down to the town of Franz Josef Glacier, staying at the Rainforest Retreat. This awesome little town was basically one street, but hosted several restaurants, coffee shops and stores, and was of course a jumping off spot for the Franz Josef Glacier. The short walk into the glacier was interesting as we made our way through what appeared to be rainforest surroundings with ferns standing eight feet tall. We came out into a clearing to view the glacier up ahead and the combination of rain forest and glacier was astonishing to say the least.
Queenstown – Next, we made our way to Queenstown. This tourist destination was probably our favorite stop for the entire trip. Located on the shores of Lake Wakatipu, this destination offers anywhere from several days worth of activity to an entire vacation. We spent time walking along the waterfront in town, enjoying dinner in the local pubs, coffee in the coffee shops, and of course, ice cream in the local ice cream shops.
During our stay in Queenstown, we took the opportunity to ride on the TSS Earnslaw, an actual steam boat powered by coal fire. We went across Lake Wakatipu to the Walter Peak High Country Farm which is not only a busy tourist destination but an actual working sheep ranch. There were demonstrations with working sheep dogs and sheep shearing, and a barbeque lunch too. There were places aboard the ship that allowed good views of the engine room, and it was fascinating to watch the engines in action.
Te Anau – Located near the southeastern tip of the south Island, this little town is the starting off point for anyone seeing Milford Sound. While a great little town in itself, we spent our time here visiting the Fjords along the coast.
Mount Cook – We stopped at Mount Cook, or near Mount Cook to spend time at Lake Tasman, viewing glaciers. Tasman lake is rich in glacial silt so it takes on a turquoise color. It's almost opaque. Putting your hand in the water is a torment if you do so for more than a few seconds. We took an inflatable boat tour out on the lake to get a closer view of the Tasman Glacier and our guide required us to place our hands in the water for a few seconds. The purpose of this activity was to underscore that, whatever we did, we really didn't want to be in the water. The point was well taken by everyone on board.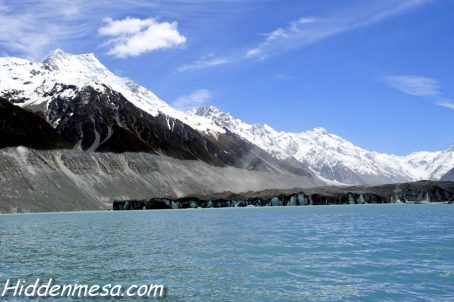 Later, we visited the Hermitage Hotel near Mount Cook where we spent some time having lunch and just viewing the mountains. We were staying at the Glentanner Park Centre Holiday park which was fine with our campervan. If we return though, and we need a hotel in this area, the Hermitage would be high on our list.
What you want to know before going to New Zealand – While New Zealand's businesses have internet available for public use, it's not yet free like it is in the States. If you want to use the WiFi hotspot in McDonald's, for example, a purchase of some kind is expected. A cup of coffee will usually do the trick. You'll be given an access code that will get you about fifteen minutes online; enough to check email and make a Skype phone call. WiFi in the RV parks (holiday parks) is similar to that found in the US. Sometimes it works, and sometimes it doesn't. Don't count on it. Still, we found the internet in public hotspots to be reasonably fast and reliable, and didn't mind enjoying a cup of coffee while we checked our mail.
When you're visiting New Zealand from a country like the United States, it's clear that things are different. It's not that it's a third world country, or that crime is rampant. Quite the contrary. New Zealand is every bit as civilized and pleasant as any other major country in the world. Still, it's clear from the moment you get off the plane that this isn't Kansas. The first obvious difference is that all vehicle traffic drives on the left side of the road. You can tell immediately when you leave the plane because people tend to walk the aisles on the left even in the airport. And don't make the mistake of calling it "the wrong side of the road" when you're talking to a Kiwi. He won't agree. All kidding aside, though, while driving on the left side presents a bit of a challenge for the first few minutes, it doesn't take long to get used to it. Just pay attention, though, because the roads are full of tourists who aren't always up to speed. Also, pay close attention to crossing the street on foot. This seemed to be more challenging to me than actually driving. It was never really clear where the traffic might come from, so I usually just waited until there was no traffic at all before stepping out into the street.
Campgrounds are called Holiday Parks. These are different places than those found in the US. They're designed for the smaller campervans, car campers, and tent campers, and not so much for larger motorhomes. They usually had good shower and bathroom facilities, and had public areas where you could use a barbeque. Most parks that we stayed in also had indoor public kitchens where you could prepare your food, and public tables where you could sit and enjoy your meal too. While these holiday parks are quite different from RV parks in the US, we found them to be a perfect fit for the kind of traveling we were doing.
What about the food? – Since we were camping our way around the island, we prepared almost all of our meals. Everything was available that you might expect. There were all the normal fresh fruits, breads, and meats. Of course, there was quite a bit more lamb for sale in the grocery stores, but all the other meats you might expect were there too. As with any venture into a different country, though, many things were just a little different. Peanut butter tasted different, and the bread was off just a bit too. We're learning that Americans seem to like a bit more sugar in their diets, and the result is that foods in other countries seem just a bit flat. Of course, it didn't take long to get used to the new tastes.
Fuel costs – We're fortunate in the US. Our cost for fuel is really quite reasonable compared to other countries we've visited. We paid about $6.00 per gallon for diesel on this trip at a time when diesel was about $3.50 per gallon in the states. Fortunately, the campervan we were renting was getting about 21 mpg.
Electricity – New Zealand uses 240v AC. It turned out that this wasn't an issue. After doing a little looking, we discovered that all the things we needed had power supplies that accepted anywhere from 120, 6 Hz, AC to 240, 50Hz. Things we needed to use while we were there included our laptops, chargers for our Kindles, chargers for our camera batteries, and a charger for our smartphone. All of these devices accepted 240VAC, so all we needed to do was buy a plug converter that allowed us to actually plug into the wall. We bought a couple of them at Amazon.com. They're different than the ones used in England, so pay attention when buying. We stayed away from the adaptors that pretend to do everything, knowing that not many things that claim to do it all will actually do anything very well.
We weren't running any appliances or anything with a motor, so there was no need to convert the power. Before you go to a country like this, just take a minute and look over the devices you're planning to take. Chances are the power supply you have will work as long as you have the proper plug adapter.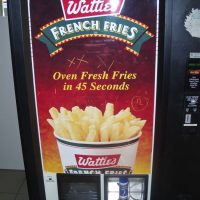 Restaurants and bars – We were on the south island, and we were mostly in rural areas, so it wasn't any surprise that restaurants and bars were less frequent than we would expect in a major city in the US. For the record, we didn't see a single Starbucks, there were coffee shops everywhere. The Kiwis are particularly proud of their coffee. A large cup of joe is referred to as a "long black". There were fast food stores, most notably McDonald's, and there were independent restaurants, cafes and coffee shops. We ate very little food in restaurants, but our experience was positive.
One thing that is different is the notion of service and tipping. Wait staff in restaurants, bars, and pubs don't seem to expect tips. As a result, while the service is friendly, it's different. We noticed, for example, that the notion of having your drink automatically refilled as we expect here in the states is simply not done there. You're basically brought your meal and left to your own to complete it.
Be sure to account for the weather if you go to New Zealand. Whatever it is in the States, it will be the opposite down under. Of course, remember that you're visiting an island in the south Pacific that's not all that far from Antarctica. Even in summer, the temperatures will most likely be milder that any coastline in the States.
Campervans – As a way to see New Zealand, we found that renting a campervan was an extremely good fit. We're used to camping, and we're used to dealing with a large RV, being the proud owners of a 5th wheel trailer. The campervan was a natural extension of all of that previous experience for us. The fact that it wasn't much different in terms of size than a normal utility van, driving and parking was really easy. We would usually proceed to our holiday park and set up the van, then walk to whatever attractions we were seeing at that location.
Phone Service – We managed this entire trip without a working cell phone. Instead, we used a smartphone with its WiFi enabled and a Skype account. From there we could make inexpensive phone calls back to the states, and of course we could make local calls within New Zealand. The only issue was that we needed to be where we had good quality WiFi in order for this to work. Why did we do it this way? Well, the truth is we didn't know any better way to do it at the time. Since then we've learned a few things about how to use cell phones in other countries. Next time we'll use an unlocked GSM cell phone with a local SIM card AND an international SIM card. And, of course, we'll still use Skype for those long winded conversations back to the states. Unfortunately, since we didn't know anything at all about using cell phones in New Zealand, we can't speak to the amount of coverage they have in the south island. Folks were walking around using their cell phones though, just not us.
Television – We traveled to New Zealand thinking that since we were going to be in an area where there were abundant national parks and very sparse population that we would not encounter a lot of television. We like to watch a little TV in the evening, so we brought our own. We downloaded a couple of seasons from three of our favorite TV shows on our laptop, and watched a few shows each night. The process was pretty simple. We purchased them from Amazon and downloaded them using Amazon's Unbox program which allows you to watch material without streaming live. The process was painless and worked well for us.
It's not very often we get to make a trip that so inspires us that we consider it a "trip of a lifetime", but our recent adventure in New Zealand certainly qualifies as exactly that kind of a journey. We found a country that has many opportunities, and plenty to keep you coming back for more. The countryside is diverse and interesting. Between the glaciers, fjords, and just seeing the farmland go by as we drove along, we couldn't get enough. The people are every bit as friendly as we thought too. Sort of like being in Canada with an accent.
Here are a few more of our images from New Zealand: