As an introduction to this week's series of blog entries, we thought we would start by explaining what's to come. We're on a cruise ship that left Miami Florida yesterday evening. We were scheduled to leave at around 5:00 PM, but the ship actually left the dock at around 7:15PM. We were loading supplies until that time. Not to worry though. We're crossing the Atlantic and there's plenty of time to make up our lost couple of hours before our first stop in Ponta Delgada, the Azores.
Over the years, we've managed to take around 10 different cruises with 4 different cruise lines. While that's not a lot by some standards, it's enough that we have developed an idea about what we like and don't like about cruising. This series will be an attempt to explain our experience from the perspective of what we're doing on this cruise, which is to cross the Atlantic.
A "crossing" like this is certainly not for everyone, and it's absolutely not a cruise that you would take if you didn't know you liked cruising. The reason is simple: we are spending many days at sea without putting in to a port of any kind. Our first stop from Miami is Ponta Delgaga in the Azores, a small group of islands off the coast of Portugal. And that's after six full days at sea. After that, we'll spend another three days at sea before we dock again. If you're not sure if you like cruising, this is not the time to test it. So what do we do on a ship for six whole days at sea? That'll be the point of the next few posts. We'll cover some of the things we think are worth our time aboard a ship, including some of the entertainment the cruise line provides as well as some of the activities we like. This cruise we're aboard the Norwegian Cruise Line's Norwegian Star. As big cruise ships go, it's not one of the newer large ships. It's big enough to dwarf most container ships, but small enough to fit through the Panama Canal. In fact, the original part of this cruise left Los Angeles and traveled through the Panama Canal before we embarked on this trip in Miami. Still, as an older cruise ship goes, it appears to be in really good repair. The décor around in common areas as well as the cabins is clean and pleasant. NCL appears to make ship's appearance a high priority too.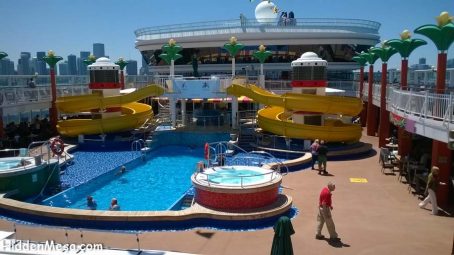 While loading supplies in Miami, we noticed that about two dozen large rolls of carpeting were taken aboard. Our guess is that they will be updating areas of the ship while we're underway. That's probably an ongoing practice. The Norwegian Star is 971 feet long with a beam (width) of 107 feet. It has a gross tonnage of 91,740 and a draft of 28 feet. The power is said to be diesel electric, meaning that the power for all the ship's functions comes from diesel generators. The thrust comes from electric "pods" that can be positioned in almost any direction , making the ship extremely maneuverable. Also, with electric pods instead of the older diesel engine on a shaft method, the ship has very little vibration when underway. And underway means that it can travel at an average speed of 24 knots. Try that speed in the middle of the Atlantic Ocean in an average 19 foot ski boat and you might have your hands full. Today the seas are quiet, which means that the wave heights are around 3 to 4 feet. Try that at around 30 miles per hour (24 knots) and see how it works out. Based on double occupancy, this ship can accommodate 2,350 passengers with a total crew of 1,100. That's not really many people by today's mega ship standards. For entertainment, this ship has 13 dining rooms, 9 bars and lounges, a spa and fitness center, 3 swimming pools and 6 hot tubs. It also has an Internet cafe but WiFi is available throughout the ship including the passenger cabins.
Many of these areas will be covered in later postings. During this cruise, we'll make several stops. After Ponta Delgada, we'll stop in England at Dover. From there we'll stop at Helsinborg Sweden, Copenhagen Denmark, Warnemuende Germany (Berlin), Tallinn Estonia, St. Petersburg, Russia, Helsinki Finland, Stockholm Sweden, and finally leave the ship from Copenhagen. We'll be making posts about those stops as we come to them. In the meantime we thought it would be fun to cover various subjects specific to the cruise itself, and that will be the focus over the next few days. Subjects like what items are included in the price of an average cruise, to what the food is like, and things to do while aboard are all subjects we think people would like hearing about. And what better time is there to comment on these than while we're underway? So check back here and we'll try to have a little something up pretty much every day.